"MERCURY is a quantum leap in our communications security, and once we complete its installation in all of our comm centers, it's going to be very hard for our adversaries... and our allies to compromise our communications."
—Nicholas Kudrow at MERCURY briefing, US Embassy, Bangkok. June 5, 1998.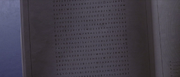 MERCURY was Nicholas Kudrow's original code that was supposed to be a 'quantum leap' for secure communications within the United States' government. It was first authorized by the Reagan administration in 1987, and officially commenced in 1988, at which time, three officers of the NSA - then-Major Nicholas Kudrow of Division, then-Lt. Colonel Robert Donaldson of Zero Section, and Major Charles Byrnes were each given control of a team of expert cryptologists to create a 'super-code', "...to protect American informants working for foreign governments." Each team was also given up to two billion dollars to develop their respective codes and potential support infrastructure. In March 1989, Byrnes' team made a critical mistake that, although it didn't disqualify them, Byrnes' rampage against the Lynch family and expectant mother Jenny Lynch did, however, driving him insane and sending him to a high-security government mental hospital, where he remains to this day. Finally, after six years of cutthroat testing and development, during which Donaldson's code was eliminated, Kudrow won out, received a promotion to Lt. Colonel, and had his code - developed by Leo Pedranski and Dean Crandell - fully developed and integrated into the government's communications' systems. This process was due to be completed by August 1998 - it never was. On June 5, 1998, then-nine year-old autistic savant and Chicago native Simon Lynch inadvertently deciphered the code through a innate ability within his mind, one that he rarely used. As a result, the boy was targeted for elimination and his parents were killed by Kudrow's second-in-command, Peter Burrell, in a failed attempt to abduct and eventually kill Simon on June 7. For the next five days, Lynch, though shielded from attacks and danger by disgraced FBI Special Agent Art Jeffries, was constantly on the run and seeking shelter. On June 12, Kudrow and Burrell, while posing as US Marshals with Witness Protection, were killed in an FBI SWAT team assault on the IBM Building's GEX Skydeck, an assault that was attempting to prevent Kudrow from commandeering a Witness Protection helicopter sent for Simon. Jeffries shot and killed Kudrow, and imploding glass from the Skydeck's bullet-riddled windows killed Burrell. By December, the code was officially scrapped by the NSA and Division had been reformed and reorganized, though the code itself remained in use by Simon Lynch and the FBI for years to come.